We Offer: Botox,
Body Contouring,
& Skin Tightening.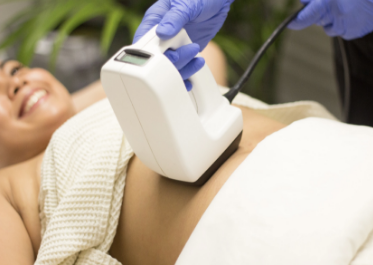 We offer Aesthetic Services,
Including Body Contouring,
Cellulite Treatment,
Skin Tightening, and Botox.
Before & After



Actual Patient. Results may vary.
Frequently Asked Questions
BodyFX Body Contouring is a long lasting, non-invasive solution to reduce fat and the appearance of cellulite. BodyFX Body Contouring will reshape your body to provide a non-surgical alternative to liposuction. It is ideal for patients who want to improve the appearance of their body without surgery or downtime. BodyFX Body Contouring is the perfect solution to get rid of your mommy tummy or muffin top, and improve your general body contour.
BodyFX Body Contouring is best suited to treat stubborn areas of fat. The result is not just a reduction of fat, but also a remodeling of the skin for optimal body sculpting.
Treatment areas include Abdomen, Back, Flanks, Butt, Arm, Leg and Neck. No Anesthesia, scarring, or downtime. Since BodyFX Body Contouring is administered by hand, almost any area of concern can be treated.  Our Beverly Hills clinic offers free consultations, book an appointment to find out if you're a good candidate.
BodyFX Body Contouring offered at our Beverly Hills location uses a combination of clinically proven modalities including radio-frequency energy, deep tissue heating, and suction coupled negative pressure. Radio-Frequency provides precise and optimal heating of the skin for reduction, contraction and body shaping. The radio-frequency energy distributes heat to the skin and underlying fat, causing the tissues to heat and contract. The vacuum and controlled energy pulses then work synergistically to provide beautiful body shaping results.
BodyFX Body Contouring is FDA approved and since the treatment is non-surgical there is no need for anesthesia.
BodyFX Body Contouring has been proven to result in the circumferential reduction of fat in peer reviewed clinical studies. Individual results may vary and it is important to maintain a healthy lifestyle during treatment. In our Beverly Hills clinic, nearly every patient receiving treatment considered it successful.  Clinical studies show 30% adipocyte (fat cell) apoptosis at a 2.5 cm depth and new collagen synthesis (neocollagenesis) of 13.7%
During treatment you can expect a warming of your skin and gentle pulling sensation as the radio-frequency and vacuum work to smooth out unwanted stubborn pockets of fat. The best way to think of how this feels is through two processes: heat and massage. Most patients in our Beverly Hills Clinic find BodyFX Body Contouring comfortable. You may notice some slight redness in the treated area post treatment.
The skin's surface will feel smoother and softer instantly. Results for skin tightening and fat loss see gradual improvements in the treatment area following the first few treatments and peak at 6-8 weeks post treatment.
Botox® Cosmetic
Botox treatments are a simple, safe, and effective way to improve facial expression lines (frown lines between the eyebrows, crow's feet at the outside corner of the eyes, forehead wrinkles and more).* This injectable works by preventing the communication between the nerves and the muscles, allowing your facial muscles to fully rest.
Before & After



Actual Patient. Results may vary.
Frequently Asked Questions
Botox® cannot be used on:
Anyone who is pregnant or breastfeeding.
Anyone with a history of neuromuscular disorders.
Anyone with any allergies to albumin products or albumin.
Temporary bruising, redness, tenderness and/or swelling are the most common side effects.
It is normal to feel a "firmness" in the treated areas the first few days post treatment. A small needle stick mark that may be noticed is present 12-24 hours after treatment.
BOTOX® Cosmetic may cause serious side effects that can be life threatening. Get medical help right away if you have any of these problems any time (hours to weeks) after injection of BOTOX® Cosmetic:
Problems swallowing, speaking, or breathing, due to weakening of associated muscles, can be severe and result in loss of life. You are at the highest risk if these problems are pre-existing before injection. Swallowing problems may last for several months. Spread of toxin effects. The effect of botulinum toxin may affect areas away from the injection site and cause serious symptoms including: loss of strength and all-over muscle weakness, double vision, blurred vision and drooping eyelids, hoarseness or change or loss of voice, trouble saying words clearly, loss of bladder control, trouble breathing, and trouble swallowing. BOTOX® Cosmetic dosing units are not the same as, or comparable to, any other botulinum toxin product.
There has not been a confirmed serious case of spread of toxin effect when BOTOX® Cosmetic has been used at the recommended dose to treat frown lines, crow's feet lines, and/or forehead lines.
BOTOX® Cosmetic may cause loss of strength or general muscle weakness, vision problems, or dizziness within hours to weeks of taking BOTOX® Cosmetic. If this happens, do not drive a car, operate machinery, or do other dangerous activities.
Serious and/or immediate allergic reactions have been reported. They include: itching, rash, red itchy welts, wheezing, asthma symptoms, or dizziness or feeling faint. Get medical help right away if you are wheezing or have asthma symptoms, or if you become dizzy or faint.
Do not receive BOTOX® Cosmetic if you: are allergic to any of the ingredients in BOTOX® Cosmetic (see Medication Guide for ingredients); had an allergic reaction to any other botulinum toxin product such as Myobloc® (rimabotulinumtoxinB), Dysport® (abobotulinumtoxinA), or Xeomin® (incobotulinumtoxinA); have a skin infection at the planned injection site.
Tell your doctor about all your muscle or nerve conditions, such as ALS or Lou Gehrig's disease, myasthenia gravis, or Lambert-Eaton syndrome, as you may be at increased risk of serious side effects including difficulty swallowing and difficulty breathing from typical doses of BOTOX® Cosmetic.
Tell your doctor about all your medical conditions, including: plans to have surgery; had surgery on your face; have trouble raising your eyebrows; drooping eyelids; any other abnormal facial change; are pregnant or plan to become pregnant (it is not known if BOTOX® Cosmetic can harm your unborn baby); are breast-feeding or plan to (it is not known if BOTOX® Cosmetic passes into breast milk).
Tell your doctor about all the medicines you take, including prescription and over-the-counter medicines, vitamins, and herbal supplements. Using BOTOX® Cosmetic with certain other medicines may cause serious side effects. Do not start any new medicines until you have told your doctor that you have received BOTOX® Cosmetic in the past.
Tell your doctor if you have received any other botulinum toxin product in the last 4 months; have received injections of botulinum toxin such as Myobloc®, Dysport®, or Xeomin® in the past (tell your doctor exactly which product you received); have recently received an antibiotic by injection; take muscle relaxants; take an allergy or cold medicine; take a sleep medicine; take aspirin-like products or blood thinners.
Other side effects of BOTOX® Cosmetic include: dry mouth; discomfort or pain at the injection site; tiredness; headache; neck pain; and eye problems: double vision, blurred vision, decreased eyesight, drooping eyelids and eyebrows, swelling of your eyelids and dry eyes.
APPROVED USES
BOTOX® Cosmetic is a prescription medicine that is injected into muscles and used to temporarily improve the look of moderate to severe forehead lines, crow's feet lines, and frown lines between the eyebrows in adults.
For more information refer to the Medication Guide or talk with your doctor.
After Care for Wrinkle Relaxers & Dermal Fillers:
Do not lay down for 2-4 hours after the treatment.
Avoid manipulation of the injected area(s) for 4 hours.
You may use cold compresses to reduce swelling at the injection site(s).
Avoid using any anti-inflammatory drugs (Ibuprofen, Motrin, Advil, Aleve, Vioxx) Aspirin, Vitamin E, St. John's Wort or Ginko Biloba for 7 days after treatment.